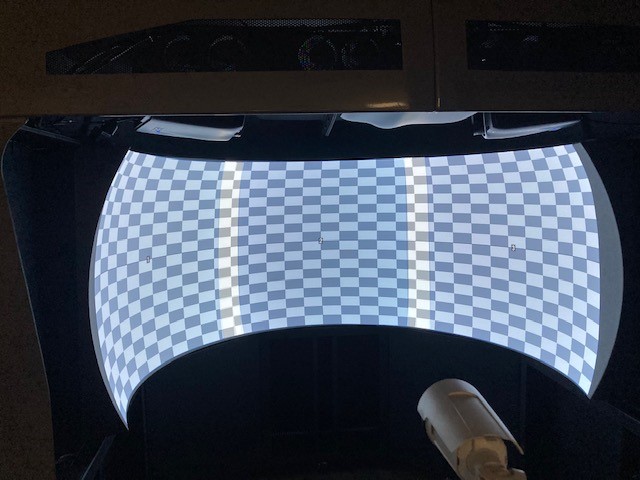 ORLANDO, FL (October 7, 2020) – PLEXSYS Interface Products, Inc. (PLEXSYS) and Immersive Display Solutions, Inc. (IDSI) have embarked on a joint endeavor. These companies have come together to showcase the synergy between the latest ImmersaView (a PLEXSYS Company) SimVisuals 2 advanced display software and the IDSI Vision Station 3 projection dome at the PLEXSYS Orlando office.
The Vision Station 3 leverages a compact design, with a 220-degree projection surface and three projectors, all within a two-meter dome. The seamless projection system alignment was accomplished using the AutoCal camera alignment feature within SimVisuals 2, reducing the need from three image generation computers to just one.
"This joint effort opens the door to new opportunities in the global training and simulation market," stated Darryl Ward, Business Development Manager. "We proved that a cost-effective, multi-projection dome training system is possible with a single image generation computer through SimVisuals 2."
For more information, please contact representatives at info@plexsys.com.
About PLEXSYS
Founded in 1986, PLEXSYS is a modeling and simulation (M&S) software company with 30+ years of delivering Live, Virtual, and Constructive (LVC) training readiness solutions and innovation. We are a 100% employee-owned small business, with more than 200 full-time employees plus part-time consultants in nine states and four foreign countries. Learn more…
About ImmersaView
Founded in 2006, ImmersaView develops advanced software solutions for complex visualization applications in the Defense, Simulation, Audio Visual, Education, Energy, and Emergency Services industries. ImmersaView's continued success across global markets led them to be acquired by PLEXSYS in 2016. Whether in software or strategy, ImmersaView has the industry insight, passion, and expertise to deliver technology solutions that enable our customers to manage their video, audio, and data.  Learn more…
About Immersive Display Solutions, Inc.
Immersive Display Solutions Inc. (IDSI) is a solutions-based and services-oriented company that designs and integrates affordable customer-specified custom cylindrical, panoramic, and spherical projected display solutions for commercial and government customers in the visualization, and simulation and training markets. Learn more…