Companies will blend software technologies to offer more comprehensive, integrated and agile LVC solutions to simulation/display users worldwide.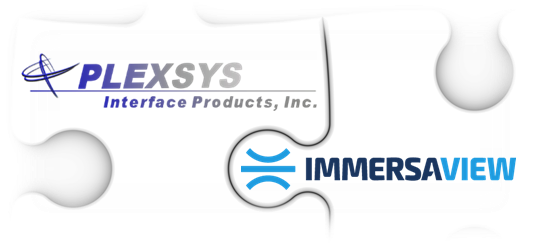 Camas, Washington – January 10, 2017.  PLEXSYS Interface Products, Inc. announces acquisition of the shares of all ImmersaView Companies.
"This merger brings together 30 years of PLEXSYS and 10 years of ImmersaView successes," states Ron Wiegand, PLEXSYS CEO. "LVC training value is found in the ability of warfighters to plan, brief, execute and debrief together. Integrating ImmersaView's advanced display and Video/Audio/Data After Action Review (VADAAR) software technologies brings innovation and efficiency to Service, Joint and Combined readiness training. Simply put, VADAAR LVC will provide scalable, distributed after-action review capabilities for individuals, teams and entire distributed networks."
The global LVC community will directly benefit from this merger. "Immediately, simulator and operations centers will have the opportunity for elegant, more cost efficient and better display capabilities," says Dr. Andy Boud, Director and Co-Founder of ImmersaView.  "Additionally, starting in mid-2017, LVC stakeholders across the globe can take advantage of the most capable, lowest cost, easy to use, distributed after-action review software designed to meet LVC and fifth generation readiness training requirements."
The companies offered VADAAR LVC (Beta version) demonstrations for the first time at the Interservice/Industry Training, Simulation and Education Conference (I/ITSEC) in Orlando, Florida, occurring November 28 – December 2, 2016.
"The targeted intersections of markets and products will experience the full potential of PLEXSYS-ImmersaView integrated products, technologies and world-class support," says Dr. Alex Streit, CEO and Co-Founder of ImmersaView.  "As a result of this merger, the company will place greater emphasis on U.S., Australian and U.K. defense and commercial markets."
PLEXSYS and ImmersaView will continue to operate in parallel under existing company and solution branding. PLEXSYS headquarters remains in Camas, Washington, and ImmersaView will add staff to their Orlando, Florida and Brisbane, Australia offices to expand business development and product development capacity.
"With PLEXSYS' existing knowledge, product suite and customer base, our combined strengths offer our customers unique solutions," concludes Boud. "ImmersaView's existing customers will benefit from a strengthened presence in the U.S. and the global defense market. With PLEXSYS' expertise in developing and delivering world-class solutions to the defense community, this merger provides unique access and support for VADAAR LVC."
"Current PLEXSYS and ImmersaView customers will continue to get the great products and support they are accustomed to, plus gain the benefit of access to larger solution sets, greater innovation, and an uncompromising commitment to quality and customer partnership," Wiegand adds.  "Both companies bring complimentary capabilities, solutions and culture to the merged entity.  We share a bold vision for the future, are committed to growing our people, and remain driven by excellence and innovation."
About ImmersaView
Started in 2006, ImmersaView has evolved to become a global leader in visualization software, with offices in Brisbane, Sydney, London and Orlando.  Whether in software or strategy, ImmersaView has the industry insight, passion and expertise to deliver technology solutions that streamline the way you manage your visual, audio and sensory assets.  For more information, please visit:  www.immersaview.com
About PLEXSYS
Founded in 1986, PLEXSYS Interface Products, Inc., a 100-percent employee-owned company, concentrates on the development of LVC environment generation technologies used throughout USAF Distributed Mission Operations and other high fidelity simulations. PLEXSYS serves clients in defense, government, commercial and academic sectors with customized and off-the-shelf LVC technologies, mission brief/debrief technologies, and synthetic communications training solutions.  For more information, please visit: www.plexsys.com