ImmersaView is excited to bring you the latest update of SimVisuals 2 version 1.12. It can be downloaded from Portal.
The highlights for this release are:
Export Configurations to MPCDI
Integrated User Documentation
Black Level Adjustment Tool Performance Improvements
Licensing Expiry Bug Fix
Export to MPCDI
If you use a media server, image generation software, or a variety of projectors that allow multiple projectors warping and blending via the universal MPCDI format, we've got some news you'll love.

We've added a new feature allowing you to export your SimVisuals 2 calibration in the MPCDI (Multiple Projection Common Data Interchange) format, ready to drop into your application or hardware device. Here are just a few of the things the new integration will enable you to do: Calibrations performed with our camera-based AutoCal, ultra-fast RapidCal, or even Manual alignment tool can be exported to the MPCDI format, allowing the graphics engine to process the warping and blending. Your software will have total control over the final image with zero latency.
Also, some projector manufacturers support on-board warping and blending via the MPCDI format, removing many variables from the visual system. Use our fast, simple, and intuitive tools to create an accurate warp and blend powered by the projector's on-board electronics.
Integrated Documentation
We've integrated the user guide right into the SimVisuals 2 user interface, accessible from the Welcome page. Help will always be at hand right where you are working.

The instructions, guides, and how-to content has been updated and will be maintained with the latest information and resources to help users get up and running in complex use cases of SimVisuals 2.

Search the entire documentation and quickly find the answers you need.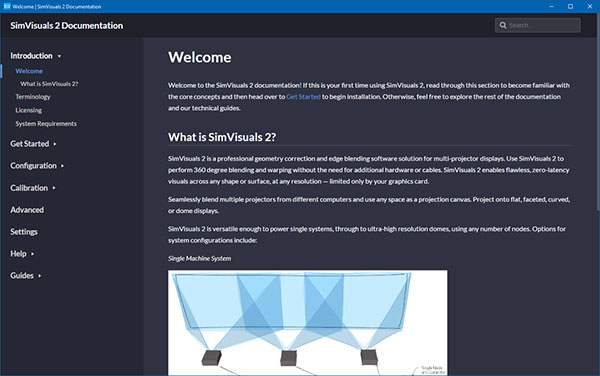 Black Level Calculation and Performance Improvements
SimVisuals 2 performs complex calculations to generate black level corrections automatically, with only a few inputs from the user for fine-tuning.
In every release, we make great strides in improving the overall effectiveness and usefulness of SimVisuals 2. We recently improved the accuracy of black level calculations, but on some systems, this new method took a less than ideal time to calculate upon each user input.
We're happy to announce that up to a 5x performance increase by reducing the calculation time in comparing projector coverage on the screen, making the black level correction tool much more effortless.
License Expiry Bug Fix
We recently fixed an issue in SimVisuals 2 that affected v1.9.0 to v1.11.1 that caused certain perpetual licenses to expire when their maintenance plan expired. It is not the intent of the maintenance plan expiry to lockout users from the software when using a perpetual license.
Customers facing this issue will need to download and install v1.11.2 or higher and reactivate their license using online or offline activation methods.
If your visual system has been affected and doesn't have access to v1.11.2, please reach out to our friendly support team.
Support and Maintenance – Updating to v1.12.0
To take advantage of these new features and fixes, you'll need to download and install SimVisuals 2 v1.12.0 from the ImmersaView Portal.
If you don't have an ImmersaView Portal account or need any assistance, please get in touch with us at sales@immersaview.com
Your visual system will also need to have valid support and maintenance coverage to access the latest versions of SimVisuals 2. Support and maintenance coverage also gives you access to our global support team to assist you with your visual system installation, ongoing support, and general enquiries.
If you have any questions or feedback – don't hesitate to contact us! We'd love to hear any feedback you have on SimVisuals 2 and what we can do to make it even better.