This White Paper will guide you through the setup of Surround with multiple projectors on your NVIDIA graphics card so you are ready to use ImmersaView Blend, ImmersaView Warp or SimVisuals products.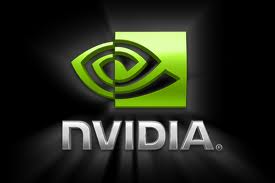 NVIDIA Surround lets you group three monitors or projectors to form a single spanned display. A single Windows Desktop can then been seen across the entire display so applications can be run in full-screen mode across multiple displays. NVIDIA Surround is able to set up 3 projectors in horizontal span mode. It uses consumer graphics cards to achieve this function.
Graphics Card
NVIDIA Surround can only be enabled on a GeForce GTX series graphics card. With newer GTX 600 series cards you can set-up NVIDIA Surround on a single card with no additional requirements. Using surround with older cards (GTX 260 and up, 460 and up, 560 and up) requires at least 2 cards in SLI mode in conjunction with an SLI-capable motherboard.
A complete list of supported cards and modes can be found on the NVIDIA website. Note: Surround only supports 3 projectors in horizontal span mode. Other display layouts are supported using NVIDIA's Mosaic technology on Quadro cards.
Video Card Outputs
Use the card's DVI, HDMI and/or DisplayPort connections as needed to connect to your projectors.
Software
Surround operates under Windows 7 or 8. Windows XP and Vista are not supported. The latest NVIDIA drivers for your card can be downloaded from: http://www.nvidia.com/Download/Find.aspx
Setting up
To set up Surround, right click on the Windows desktop and select "NVIDIA Control Panel".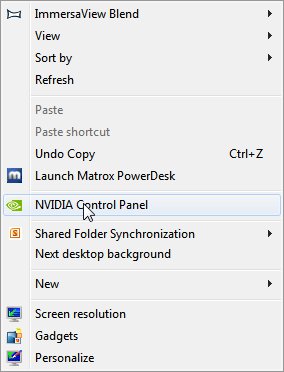 Select "Configure SLI, PhysX, Surround" in the left menu. If you have a single compatible card it will be named "Configure Surround, PhysX".
If you only have a "Configure PhysX" option available, your setup does not support Surround. This is usually caused by the motherboard not being SLI compatible.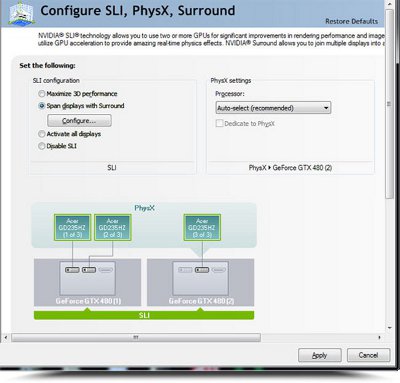 Select the "Span displays with Surround" option, and click the "Configure" button.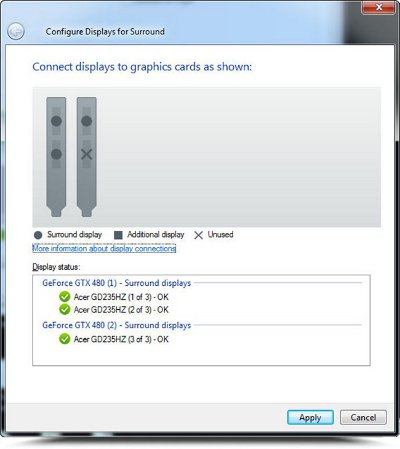 The first page highlights the display setup. Click Apply and Surround will be set up.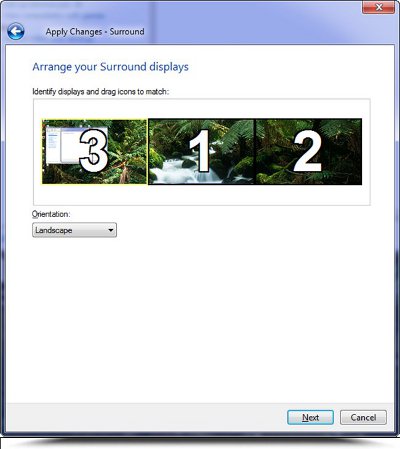 This page shows the layout of the displays. Click Next to continue.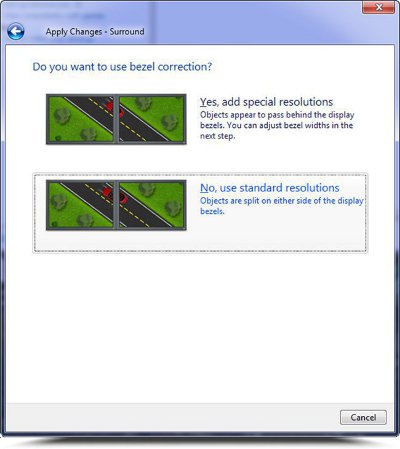 Bezel correction is use for monitor set-ups to try and minimize the software joins between the flat panels. As we are using projectors, this step is not required. Click "No, use standard resolutions".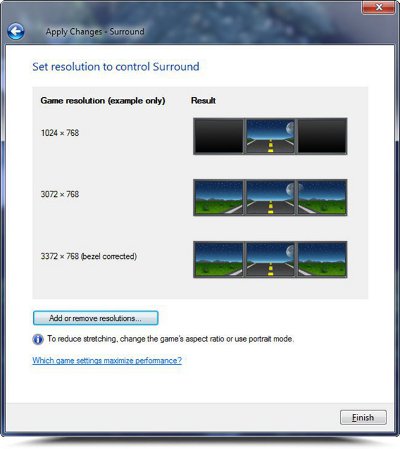 Recommended GPU's
GeForce GTX 960, 970, 980
Supported GPU's
All GeForce FX 5xxx, 6xxx, 7xxx, 8xxx, 9xxx cards except the GX2 cards. All GeForce 1xx, 2xx, 3xx, 4xx, 5xx, 6xx, 7xx, 8xx, 9xx cards except the dual-gpu cards (see unsupported)
Unsupported for desktop correction and OpenGL
GeForce 7900 GX2, GeForce 7950 GX2, GeForce 9800 GX2, GeForce GTX 295, GeForce GTX 590, GeForce GTX 690.
Note: GPU list may be out of date. Please check with your GPU manufacturer to see if your card is supported.
Download Resource