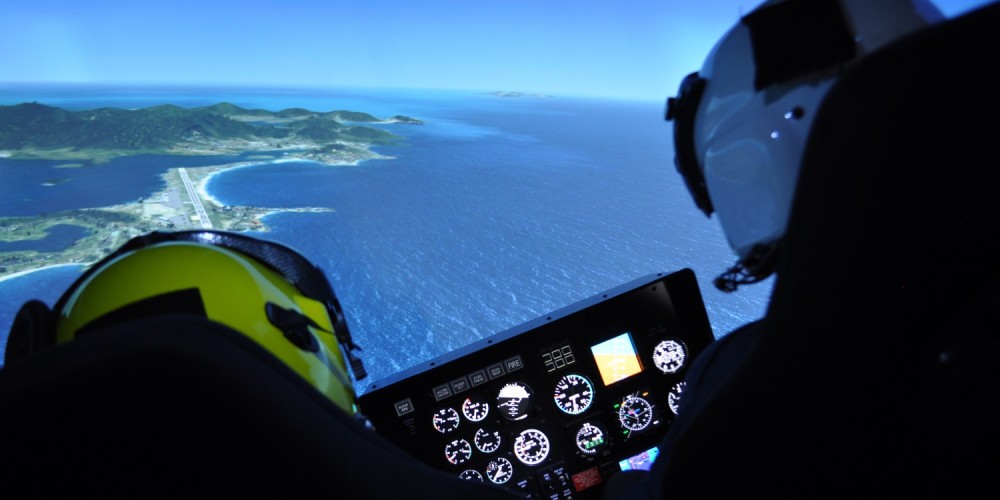 ImmersaView built their very own helicopter simulator to demonstrate the power of SimVisuals
To demonstrate the power of SimVisuals, ImmersaView set out to build a complete 180 degree field of view helicopter simulator in their Banyo Head Office. Paired with a helicopter cockpit provided by Ryan Aerospace the simulator creates a highly realistic, professional and immersive user experience. With the display being powered by SimVisuals, a complete seamless image was achieved across the 180 degree field of view with state-of-the-art edge blending and geometry correction.
Company Snapshot
Industry Software
Product Visualization and Connection Framework software
Headquarters Brisbane, Australia
Founded 2006
Offices Brisbane, Sydney, London and Orlando
Creating a large field of view display with space for realistic flight controls
Simulators often require large fields of view to immerse the participant, which is often needed to be achieved in a small space. Added to the complexity of this goal is ensuring a flight training device such as a helicopter simulator can be place in the center of the screen without causing any shadowing. ImmersaView's SimVisuals Display range offers a number of solutions that achieve both a wide field of view with minimal space requirements. These displays have been designed to offer solutions to simply increase field of view and provide an elegant solution that is affordable, transportable and simple to install.
A seamless 180 degree screen made possible by ImmersaView SimVisuals
To demonstrate SimVisuals Displays to our customers, we have installed a 180 degree screen along with a Ryan Aerospace heli-sim. The HELICREW is a dual control helicopter simulator system allowing you to bolt on different aircraft types to the main unit. To create a real life helicopter pilot experience, ImmersaView's SimVisuals® software has been implemented to provide full warp and blend functionality with the addition of a number of features including colour correction, remote GUI for PC cluster mode and real-world mapping for domes and other complex displays.
Technical Specifications
3 x HD BenQ Projectors
180 Degree curved screen
Helicopter Cockpit powered by Ryan Aerosapce
Single PC
ImmersaView SimVisuals
"We have been amazed at the increase immersion the HELICREW device achieved when an immersive curved screen is added. We worked with ImmersaView to provide a stunning display capable of immersing multiple participants in a simulated environment. "
Founder of Ryan Aerospace
The HELICREW is installed at ImmersaView headquarter in Brisbane, Australia where equipped with 2.5 m radius, 180 degree field of view curved screen and three high F22 projectors from projection design. If interested in testing out the system in person, please feel free to get in touch.