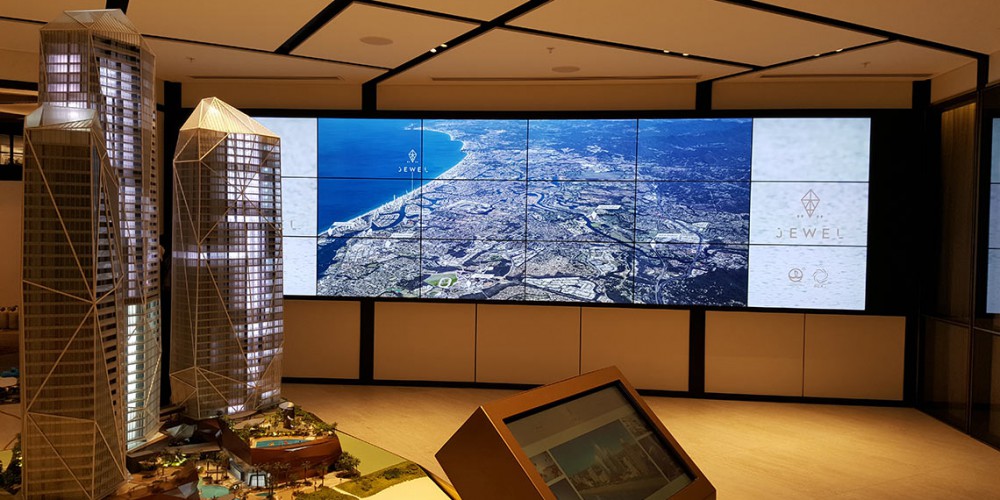 To share Jewel's vision for the development, an interactive video wall was created by Videopro and powered by ImmersaView's VADAAR
The latest luxury development on the Gold Coast, Jewel, is set to join the cast of signature global landmarks as a striking beacon on the Gold Coast skyline. To share their vision for the development and attract investment, Jewel set out to create a state of the art sales office, to allow potential buyers to come in and explore the lifestyle, location and vision for the development. ImmersaView was contacted to power a video wall installation as part of this experience.
Company Snapshot
Industry. Real Estate
Product. Hotels and Apartments
Founded. 2015
Headquarters. Gold Coast, Australia
Engage clients with an interactive video-wall to share the developer's vision
The Jewel center required a way to engage their potential customers in the vision for the development and give them a taste of the lifestyle of the Gold Coast and design of the building. To achieve this, the decision was made to create a large video wall with the ability for employees and guests to easily interface with content presets on the screens, created to visualise each aspect of the development.
An 18 panel display wall with an interactive touch screen to control content, powered by VADAAR
To achieve the developer's goal, a large 18 panel display wall was created, with a small touch screen interface and ImmersaView VADAAR. The 18 panel display wall was broken up into 12 center panels in a 4 x 3 arrangement, powered by a single PC, along with 2 end groups consisting of three panels in a 1 x 3 arrangement. To allow these two systems to synchronize and load content both were running a VADAAR 'windowed viewer' which allows content to be streamed to it, along with a central control which allowed the AMX touch panel system on the network to coordinate the content.
Technical Specifications
18 x 55 Inch Full HD LED Panels
2 x Workstations featuring AMD W600 GPUs
AMX Touch Panel interface
ImmersaView VADAAR
VADAAR allowed for a simple control and synchronization of the content, without the need for additional hardware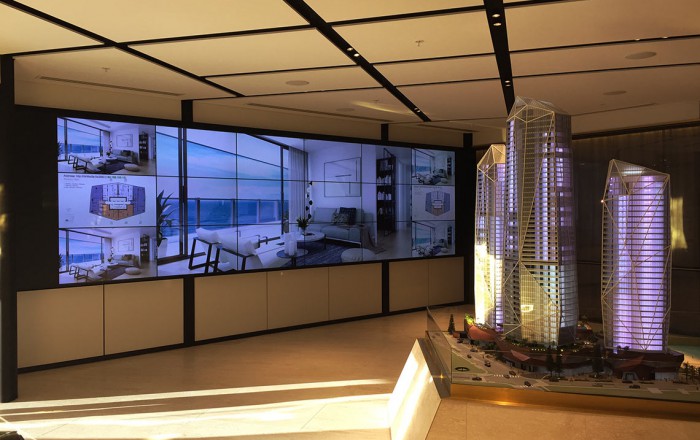 The result was a fantastic focal point in the sales offices and the perfect medium for visitors to experience the developer's vision for the development and the lifestyle they can come to expect at one of the Gold Coast's premier developments. The AMX touch panel system allowed for a fantastically simple interface to change between different presentations, with VADAAR allowing for the synchronization and simple control of content on the back end without the need for additional hardware.