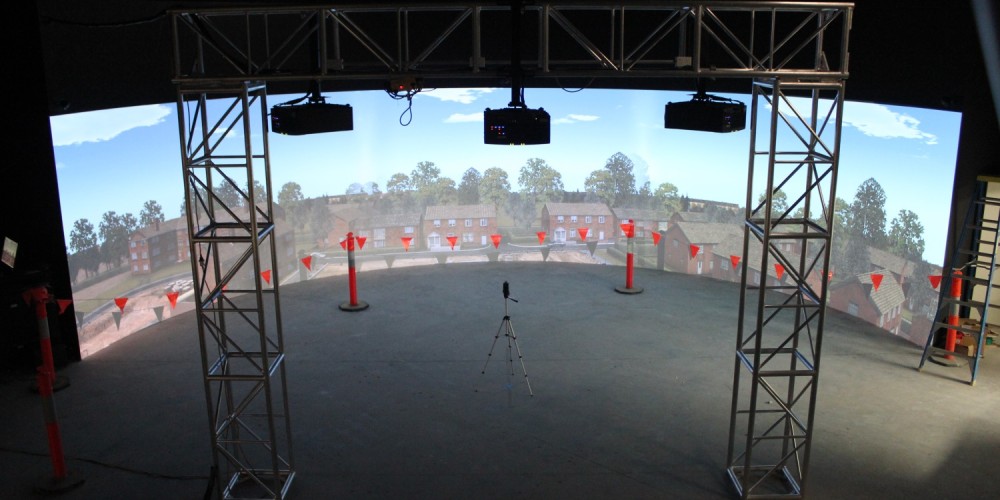 Makemedia set out to create an immersive training facility, powered by ImmersaView SimVisuals
Makemedia is full service digital media agency specializing in creating 3D projects for commercial sectors including aerospace, energy, agriculture, infrastructure, office design, components, hospitality, publishing and entertainment. They set out to design and create the technical setup for a Master Builders training facility, implementing a large 180 degree curved display, immersing users in an interactive training environment. The display surface was powered by ImmersaView SimVisuals, allowing three projectors to be painlessly and seamlessly warped into a single geometrically correct surface.
Company Snapshot
Industry Digital Media
Founded 2006
HQ Brighton, East Sussex
Operations 3D Content and design services
To create a training space that immerses users with industry leading 3D content and simulation technology
A recent challenge for Makemedia was to design and create industry leading 3D content and technical set up for a facility that will provide innovative training using state-of-the-art simulation technology and bespoke real-time VR environments for the Master Builders' Building Leadership Simulation Centre (BLSC) in Melbourne, Australia. This required an immersive, interactive learning environment combining digital technology and human aspects to construct a virtual workplace, where trainees will tackle real-life problems with a very high degree of realism.
Powered by SimVisuals, Makemedia were able to create a seamless 180 degree simulation environment
Makemedia engaged ImmersaView to provide a full turn-key solution, including optical design, projector selection, project management and installation services. A virtual construction site was creating using high-definition projectors to seamlessly project bespoke content on to a 15m wide 180° curved screen, using ImmersaView's SimVisuals software to merge 3D content generated from a PC Cluster. The combinations of the immersive display, replica site sheds, and a team of trained actors create a life- like experience. This enables learners to experience 'real life' scenarios off-site and in a safe environment.
Technical Specifications
15 Meter wide 180 Degree curved screen
ImmersaView SimVisuals
Clustered PCs
3 x Projectors
"We worked with ImmersaView to provide a stunning display capable of immersing multiple participants in a simulated environment"
Nick Wood, Director Makemedia
An award winning training facility that sees Melbourne's BLSC become home to a world-class center for simulation training in the construction industry. BLSC will have the capacity to train thousands of building professionals a year, from project managers right through to apprentices. Not only will this training save costs in a dangerous industry, it can save lives too!