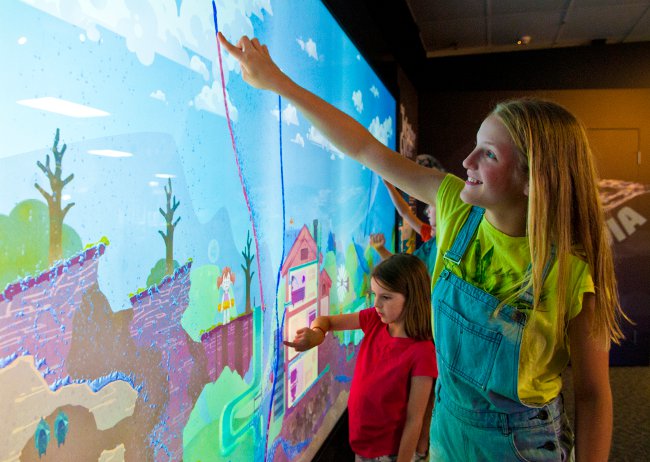 ImmersaView Warp was recently installed for a new interactive touch screen at Scitech in Perth, Western Australia.
Scitech, a large not-for-profit organization in Perth, set out to create a new interactive exhibit installed in their museum. The large-scale exhibit, called Waterlandia, demonstrates the impact of the water cycle and its role in the environment by allowing visitors to interact with the water and manipulate its direction and flow, by drawing or erasing lines. This exhibit was made possible by the advanced edge blending technology inside the ImmersaView Warp software.
Company Snapshot
Industry Not for profit
Product Science museums and education centers
Founded 1988
HQ Perth, Western Australia
Create an interactive exhibit to demonstrate the impact of the water cycle and its role in the environment
Waterlandia was developed to create realistic water behaviour flow based on individual particle modelling with a pixels size of less than 1mm over a large screen size of 3m width, by 1.6m high. The other criteria was to keep the projection distance to a minimum
ImmersaView Warp was deployed to obtain a more effective edge blend for their unique application
The team at Scitech chose to use 4 commodity of the shelf projectors together in 4 portrait-mode. The end solution used Panasonic PT-RZ475EA Short Throw Solid Shine Projectors. ImmersaView provided ImmersaView Warp software to achieve a seamless image across the multiple projectors in the minimum distance projection settings. Even though the Panasonic projectors have the ability to do soft-edge blending, Scitech chose ImmersaView Warp to obtain a more effective edge blend to correct for all the non-linearity in the system and align the four projectors to create a seamless well-aligned screen.
Technical Specifications
One Core i7 PC with 16GB RAM
NVIDIA Tesla K20X 6gb GPU Server accelerator card
NVIDIA Quadro K5000 Graphics Card
Four PT-RZ475EA Panasonic Short Throw Solid Shine Lamp Free FHD Projectors
One Peau Productions- 134" Diagonal Integration Touch Frame with 32 Touch Points
ImmersaView Warp
"Waterlandia is Scitech's most ambitious multimedia exhibit to date, incorporating over 10,000 lines of programming code. It lets visitors explore the colourful and animated world of water through an interactive touchscreen."
Scitech CEO, Alan Brien
Scitech was very pleased at the result and have a very high resolution screen depicting the water cycle in minute detail – complete with very small, but clearly defined raindrops. The young visitors were very excited to interact with the water touch screen and mentioned that the screen feels like a very large iPad.