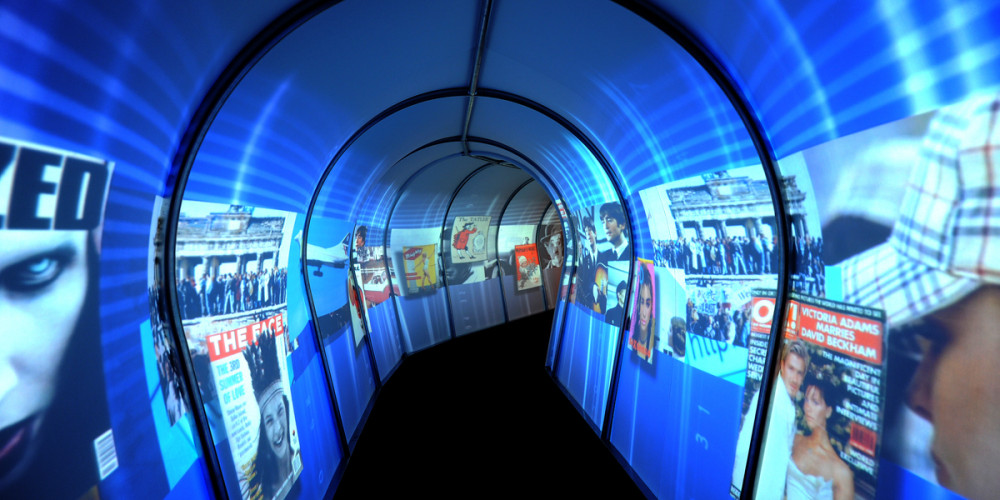 White Space Productions set out to create the ultimate exhibition promotional product
White Space Productions, an AV company located in the United Kingdom set out to produce a cost effective and easy to deploy promotional tunnel to be hired for use at events such as award ceremonies and show floor exhibitions. To achieve this, they constructed a lightweight and portable frame with projection screens along the outside, powered by three projectors on each side. To make this possible, they deployed ImmersaView Warp to wrap content around the tunnel and immerse the users in a complete floor to ceiling tunnel of content.
Company Snapshot
Industry Audio Visual Services
Product Stereo 3D, consulting and promotional
Founded 2001
HQ Essex, United Kingdom
A light-weight and easy to setup frame with simple to use software
The challenge facing White Space Productions was to create a truly immersive point of entry for show floor exhibitions and other such events. To achieve this, the display equipment must be lightweight and portable, the software simple, reliable and adapt to a busy pack up/pack down operation.
ImmersaView Warp deployed to wrap the content over the tunnel exterior
The solution that WSP produced was a light-weight metal frame, with fabric projection screens encompassing it, allowing for three projectors on each side to power the content. To make this possible WSP needed software that would allow them to warp the content so that it wrapped over the walls and curved roof of the tunnel whilst remaining geometrically correct. To achieve this, ImmersaView Warp was deployed, with precision geometry correction and edge blending software to enable seamless video or image display on the tunnel surface. ImmersaView Warp is simple to use and ready to go in minutes - no need for extra cables, connections or additional hardware.
Technical Specifications
Lightweight metal frame
Curved tunnel projection screens
Six projectors
ImmersaView Warp
"Our tunnel entry never fails to impress. On arrival, guests are delighted as they make their way to the event. ImmersaView Warp gives our projects the creative edge."
Steve Green, White Space Productions
WSP's Tunnel Projection is a visually striking and exciting entrance that impresses guests on arrival. Tunnel Projection demonstrates ImmersaView Warp's capacity to make unique and creative displays happen quickly and easily.